Forming process impact on the quality of corrugated box
The forming process of corrugated boxes has significant impact on the quality of corrugated box. Groove, slotting, printing, and gluing all need to be optimized in actual operation. First, the strength of corrugated box is associated with the width and depth of press mark line of cardboard. Excessive width and depth of press mark will lead to the rupture of inner paper; while insufficient width and depth lead to the non-fold ability of the corrugated box.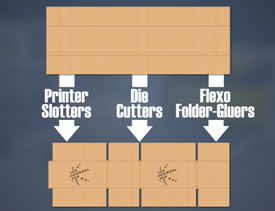 Therefore, investigation has to be made into the groove process of corrugated cardboard, so as to determine the optimal operational parameters. Second, the printing process is another factor affecting the load bearing strength of corrugated box. Research shows that with the increase of printing pressure, the contraction and deformation will occur to corrugated cardboard; its compressive strength declines until the crush of the corrugated box. It is thus necessary to adopt the smallest printing pressure possible while ensuring good printing appearance. Third, the slotting and gluing process optimization also need exploration, since the compressive strength of corrugated box dramatically decreases with the deepening of the slotting; inadequate dosage of adhesive leads to the weak cohesion. As a result, adhesive failure is very likely to happen under pressure, leading to crushing and the decline of compressive strength. On the other hand, excessive dosage will bring about glue overflow, which affects the appearance of the products; or, it will result in cohesion between corrugated boxes, with a waste of production cost.
Hebei Shengli Carton Equipment Manufacturing Co.,Ltd is one of the largest
Corrugated Carton & Box Making Converting Printing Machines Equipments manufacturers in China
, supply high quality machines and good service for corrugated box plants wordwidely. We are specialized at corrugated box carton & cardboard machines . Corrugated sheet making machine, corrugated sheet cutter, boardcard slitter, flexo printing press, box folder & gluer, corrugated cardboard die-cutting machines. Anything you have interested, please contact me :
corrugatedboxmachine@hotmail.com
---