Glossary of corrugated box machine
Corrugated box Convertor – a packaging company which converts packaging materials into a more usable form for users. Operations for film convertors are to laminate, print, and slit films for use. For corrugated and box makers, they print, slit and score and die-cut sheets of corrugated board into box form.
Corrugated fiberboard – a paperboard construction consisting of liner boards separated by a paperboard fluted-medium.

Die-cut –Die Cutting corrugated board in a specific pattern, e.g.: to allow holes for produce to breath and cuts to allow the board to be made into a tray or box. This is done in combination with scoring (see below).
Double wall corrugated – a corrugated construction consisting of three liners separated by two fluted mediums. This may also be called 5-ply or "5 lines."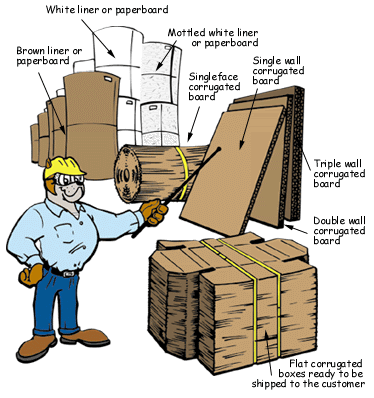 Grammage – the basis weight of liner board (the outside paperboard surfaces of corrugated) expressed in most parts of the world as g/m2 and in the USA as lbs/1000 ft2.
Preform – an injection molded tube that is heated and blown in another machine to make a PET bottle.
Single wall corrugated – a corrugated construction consisting of two liners separated by a fluted medium. This may also be called 3-ply or "3 lines."
Score – Depress corrugated in a line to facilitate bending to make a tray or box.
Slitter – Cutting board or film to a desired width.
ERP System. Enterprise Resource Planning software.
SKU. Stock keeping unit.
Lean Manufacturing. A methodology to reduce wastes in manufacturing or other organizations (Womack, Jones, 2003)
Corrugated packaging. Paper-based material consisting of a fluted corrugated sheet and one or two flat linerboards (Corrugated Packaging, 2011).
Fanfold Corrugated. Corrugated sheet in a continuous length 1000-1500 feet long(Rohleder, 2004)
RTA furniture. Ready to assemble furniture (RTA furniture, 2011)
Packsize machine. An automated machine to covert fanfold corrugated board to finished boxes (Rohleder, 2004)
Bliss Box. A box made from three pieces, two end panels glued to a larger body panel that forms the bottom, and two sides with flaps.
Hebei Shengli Carton Equipment Manufacturing Co.,Ltd is one of the largest
Corrugated Carton & Box Making Converting Printing Machines Equipments manufacturers in China
, supply high quality machines and good service for corrugated box plants wordwidely. We are specialized at corrugated box carton & cardboard machines . Corrugated sheet making machine, corrugated sheet cutter, boardcard slitter, flexo printing press, box folder & gluer, corrugated cardboard die-cutting machines. Anything you have interested, please contact me :
corrugatedboxmachine@hotmail.com
---