Slotting and Creasing Machine for Corrugated Working Process
2.table 3.hopper or magazine 4.carton blanks 6.upper Cutting and creasing heads 7.lower cutting and creasing heads 8,9.shafts 10.radial face 11. Chute or inclined plate 12.body 13.hub portion 14.key 15.cylindrical portion 16.clamping ring or nut 17,18.a pair of segmental knives 19.sockets or recesses 21.dowel 22.surface 23.die holder 24.hub 25.key 26,27.creasing and cutting members 28.spacer 29.groove 30.transversely extending creases 31.clamping ring or nut 32.sockets 33,34.peripheral surfaces 35,36.opposed marginal edge portions 37.slots 38.flange 39.annular groove 43,44,45.inclined wall portions 46.cutting edges 47,48,49.wall portions 52.dowel pin 53,54.transversely disposed chisel-like cutting edge 55.inner ends 56.slots
In the selected embodiment of the invention herein disclosed, there is illustrated in Figure 1, for purposes of disclosure, a portion of a conventional blank slotting and creasing machine comprising a table 2 having mounted thereon a suitable hopper or magazine 3 in which the box or carton blanks l or other articles to be slotted and creased are placed.
The blanks are fed from the magazine 3 between a pair of complemental cutting and creasing heads by suitable means, not shown.These heads are generally designated by the numerals 6 and 6 and 7, and are mounted' upon shafts 8 and 9,respectively, which are simultaneously driven in opposite directions, as indicated by the arrows, by suitable means not believed necessary to illustrate in the drawings. From the heads 8 and 7 the slotted and creased blanks are delivered onto a suitable chute or inclined plate 11, as is well known.
An important feature of the present invention resides in the provision of a blank slotting and creasing machine of a single pair of heads 6 and 7 which carry combined slotting and creasing members adapted simultaneously to slot and crease each blank, as the blanks are successively fed there between from the magazine 3.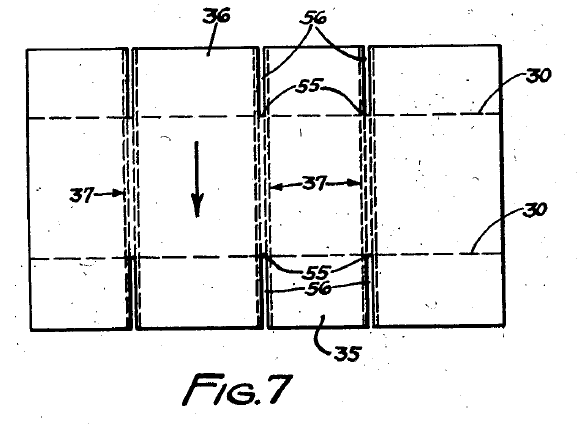 In Figure 7 I have shown a corrugated container box blank comprising three sets of slots and creases which are necessary in the formation of conventional square or rectangular corrugated containers or boxes provided with end flaps for closing the box ends which are usually glued down.It is to be understood, however, that the number of 'such sets of slots and creases and the spacing therebetween may be varied to suit any blank regardless of the particular use to be made of the blank and without departing from the scope of the invention.
I It will be apparent to those skilled in the art that I have accomplished at least the principal objects of my invention, and it will also be apparent to those skilled in the art that the embodiments herein described may be variously changed and modified without departing from the spirit of the invention, and that the invention is capable of uses and has advantages not herein specifically described; hence it will be appreciated that the herein disclosed embodiments are ilustrated only, and that my invention is not limited thereto.
Hebei Shengli Carton Equipment Manufacturing Co.,Ltd is one of the largest
Corrugated Carton & Box Making Converting Printing Machines Equipments manufacturers in China
, supply high quality machines and good service for corrugated box plants wordwidely. We are specialized at corrugated box carton & cardboard machines . Corrugated sheet making machine, corrugated sheet cutter, boardcard slitter, flexo printing press, box folder & gluer, corrugated cardboard die-cutting machines. Anything you have interested, please contact me :
corrugatedboxmachine@hotmail.com
---