Corrugator Machine-Corrugated Board Making Machine
A
corrugator machine
is a large machine, made up of a series of smaller machines, that combines two different kinds of paper to create cut
sheets of corrugated fiberboard
. The flat, facing sheets are referred to as the liners, and the wave-like, fluted layers are known as the
corrugating medium, or simply medium
. The
corrugator machine
takes large rolls of paper produced on paper machines, flutes the medium and glues it to the liners, one at a time, and delivers stacked, cut, and scored sheets of
corrugated board to various converting machines
. The converting machines convert the sheets of corrugated board into "box blanks," which are ready to be made into boxes, and other corrugated board products.
The
corrugator machine
is the largest and most expensive machine in the
corrugated fiberboard manufacturing process
. It is about the length of a football field and can cost several million dollars. The corrugator combines rolls of linerboard and medium into sheets of corrugated board. The typical corrugator is equipped to run both single wall and double wall in a variety of flute heights. Modern machines can also be equipped with innovative enhancements that offer a range of value added features such as functional coatings, color coating, tear tape or internal strings, and water resistant adhesives. Advanced technology such as razor cutting knives and robotic scoring heads allow the machine to produce quality board with faster set ups and shorter cut offs.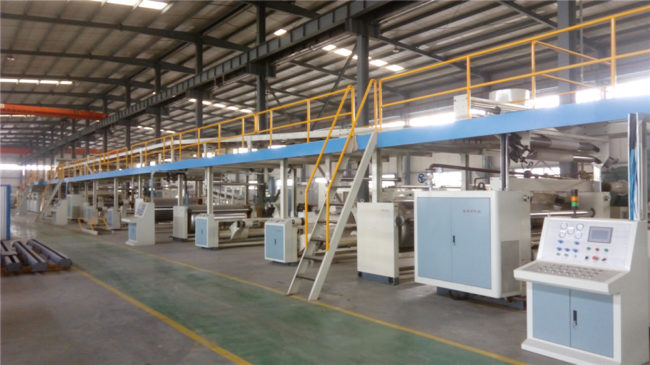 This complete corrugator is designed following national standard. It boasts reasonable structure, fashionable appearance, advanced technology, simple operation, low energy consumption, small floor area and other advantages. If you are dealing with small and medium size packages and color corrugated boxes, this single face corrugated cardboard production line will be your best choice.
Hebei Shengli Carton Equipment Manufacturing Co.,Ltd is one of the largest
Corrugated Carton & Box Making Converting Printing Machines Equipments manufacturers in China
, supply high quality machines and good service for corrugated box plants wordwidely. We are specialized at corrugated box carton & cardboard machines . Corrugated sheet making machine, corrugated sheet cutter, boardcard slitter, flexo printing press, box folder & gluer, corrugated cardboard die-cutting machines. Anything you have interested, please contact me :
corrugatedboxmachine@hotmail.com
---