Flexo printing slotting machine for Corrugated carton box
The actual making of the corrugated board is an important component of the corrugating plant's work, but is by no means the total operation. The plant sells containers not just corrugated board. The major portion of the plant is occupied by equipment to convert the blanks coming from the corrugator into containers, or some form of salable package. Profitability of the operation relies on efficient use of the corrugator machine capacity and also on conversion of the board into printed, folded cartons. As the board comes from the corrugator, it's cut into rectangular blank sheets, which may be scored in the direction perpendicular to the corrugations. Since the maximum stacking strength is in the direction of the corrugations, that will be vertical direction of the finished container. To be converted to a container, the sheets must be printed, cut and creased to form the folds and tabs that will be glued together to form the container. A large variety of machines are used and it's impossible to describe them all here. A few of the more popular devices will be discussed as examples of the common operations performed on corrugated board.
A flexo printer-slotter for corrugated carton box is used to print the blanks and cut the tabs,but will not fold and glue the container. The printing is normally done with a flexible letterpress type plate, using a fairly oily ink of the letterpress type. The sheets are passed through the press in a direction perpendicular to the direction of travel in the corrugator, producing an unfolded container like the one shown in figure 9.5.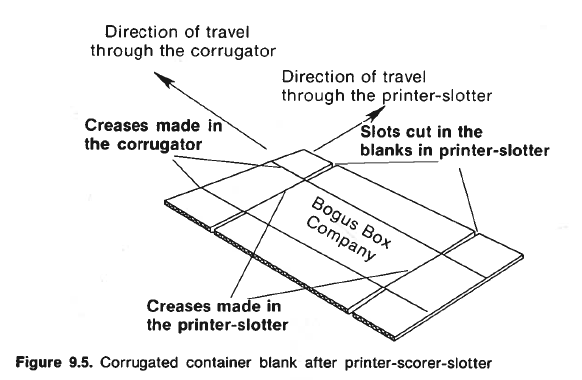 If the design of the container is proper, this press can produce a container ready to be folded and sealed. The sheet will have been scored in one direction in the corrugator, by going through this machine in another direction, as shown in figure 9.6, it can be scored using a pair of rollers on either side of the blank, as shown in figure 9.7.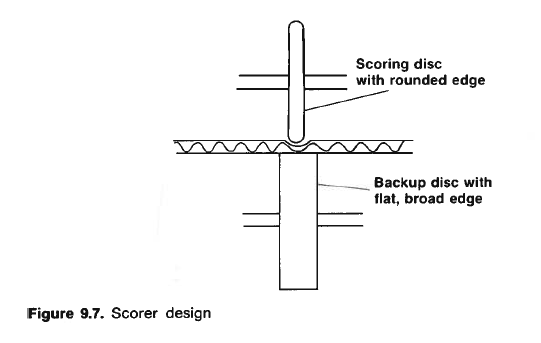 Small slots can also be cut to create the tabs needed to seal the container. The purchaser of the containers may want them shipped in this condition, intending to fold and seal them in his won plant, or the corrugating plant may need to do the job. The blanks can be folded manually or automatically, and the tabs attached by gluing, taping or stitching with staples. If the boxes are to be glued, the job is more likely to be done on a machine that can print, score, fold and glue all in one pass. Taping and stitching are generally done separately, as they are slower operations and not as readily adaptable to in-line operations.
Hebei Shengli Carton Equipment Manufacturing Co.,Ltd is one of the largest
Corrugated Carton & Box Making Converting Printing Machines Equipments manufacturers in China
, supply high quality machines and good service for corrugated box plants wordwidely. We are specialized at corrugated box carton & cardboard machines . Corrugated sheet making machine, corrugated sheet cutter, boardcard slitter, flexo printing press, box folder & gluer, corrugated cardboard die-cutting machines. Anything you have interested, please contact me :
corrugatedboxmachine@hotmail.com
---